If you would like to become a member please fill out and submit the form below: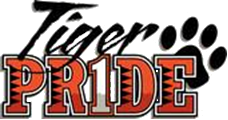 LAWRENCEBURG COMMUNITY SCHOOL CORPORATION
WHAT IS TIGER PRIDE??
Tiger Pride, Inc. is a non-profit athletic and activities booster organization supporting ALL boys' and girls' athletic and activities programs at LHS and GMS.
Your support is always vital in maintaining and surpassing our goals in supporting our student athletes and GMS/LHS Athletic Departments financially. With the unexpected Covid-19 pandemic during the 2020-2021 school year, Tiger Pride successfully modified their processes so they could continue to provide safe and efficient customer service practices at all sporting events and continued to provide financial support to our student athletes and Athletic Departments. Unfortunately, but understandably, with these mandatory modifications and a decrease in membership numbers, Tiger Pride had a significant income loss. Even through the uncertainty, our schools, student athletes, Tiger families and our community RALLIED to keep us TIGER STRONG. Let's continue that RALLY spirit!
RALLY:
To come together again. To renew an effort. To join in a common cause. Recover, rebound.
Tiger fans…..
It's time to RALLY! It's our RALLY year! How can you RALLY around Tiger Pride?
BECOME A TIGER PRIDE MEMBER!
VISIT OUR CONCESSION STANDS! BUY SPIRITWEAR!
BUY GAME BALL/SPLIT THE POT TICKETS!
SPONSOR A GAME BALL! ADVERTISE IN OUR ALL SPORTS PROGRAM!
THANK YOU FOR SUPPORTING THE TEAM BEHIND THE TEAMS AND OUR STUDENT ATHLETES!
HOW HAS TIGER PRIDE SUPPORTED OUR STUDENT ATHLETES AND ATHLETIC DEPARTMENTS?
Donated $13,000 to LHS and GMS Athletic Departments to support ALL boys' and girls' athletic programs

Paid over $6,500 for GAS for ALL away athletic events

Paid over $7,000 for AWARDS such as certificates, trophies, letters, bars, pins, and blankets, etc. for ALL athletic programs

Previous years fundraising totals over $4,100 to support student athletes

TIGER PRIDE also operates The Tigers Spirit Store selling Tiger apparel and other AWESOME TIGER PRIDE spirit merchandise
Over $30,000 generated to support our student athletes!
If you have questions or would like to become a Tiger Pride Officer, please email us at: tigerpride@lburg.k12.in.us